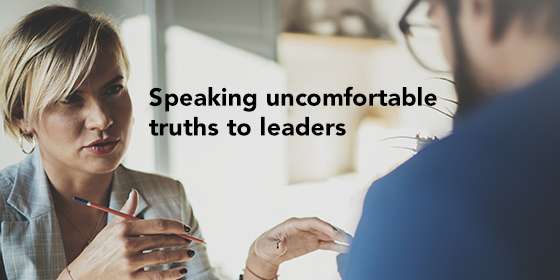 WEBINAR: November 28, 2018 | 11:00a.m. to Noon EST
Redwood Performance Group and Leslie Michener.
Speaking uncomfortable truths to leaders is uncomfortable in itself! There's no denying that taking this step can be risky, but sometimes we just can't live with the way things are. Understanding the relationship between truth and power in the workplace, and figuring out how or why we might want to tell our own truth to our leaders is important. This is critical for those who want to help leaders by providing feedback, and those who see opportunities for making things better.
Topics to be covered:
The intertwined relationship between truth and power
Potential risks and consequences in speaking uncomfortable truths to leaders in the workplace
How to determine the best approach for you
Do's and don'ts for the conversation
The importance of reflection and follow-up to the conversation

PRESENTERS:
Leslie Michener, M.Ed., Leadership, Talent Management and Organizational Development Expert
Over the past four decades, Leslie's career has been evenly split between external consulting roles and internal senior HRD roles. She has coached senior executives to lead through industry change, sat as a member of a global team to design a global performance management system, facilitated leadership development sessions on talent management and change, and led the design and development of a global talent management centre of expertise.
Lydia Sani, Managing Partner, Redwood Performance Group
Redwood Performance Group is an award-winning learning, consulting and communications company that plans and innovates with clients to address their biggest performance and engagement challenges.