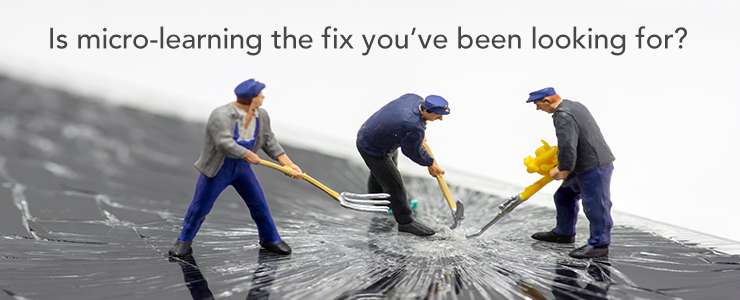 WEBINAR: March 29, 2018 | 11:00a.m. to Noon EST
Redwood Performance Group, Janine Harris and Craig Stephens. 

If your big ideas keep clashing with tiny budgets, it's time to seek more options. There's a reason learning futurists keep putting micro-learning at the top of their trend lists. It's small, focused and can work wonders with learner skills and performance. But is it the fix you're looking for? Yes, no and maybe.
Join Lydia Sani as she moderates a discussion with Lee Downs, Janine Harris and Craig Stephens.
Topics to be covered:
Should you hop on the micro-learning bandwagon?
Advantages and disadvantages of micro-learning
Putting the micro in your macro learning strategy
Welcome to the video revolution
Why micro-learning and branching scenarios go together like PB&J

PRESENTERS:
Janine Harris, Executive Producer, Keyring Media
Keyring Media works with some of Canada's largest companies—and many of its smallest—to produce high-quality videos for use with employees, website visitors, prospects, customers and other audiences. Janine is also an instructor for the "Video For The Web" course with George Brown College.
Craig Stephens, Writer, Producer, and New Media Creator
Craig Stephens brings award-winning copy and script writing, instructional design, and video and film production skills together to create learning that engages and delivers results. He believes the today's ease of access to new media creation and distribution tools opens up exciting new possibilities in all aspects of learning.
Lydia Sani, Managing Partner, Redwood Performance Group
Lee Downs, Senior ID and Communications Specialist
Redwood Performance Group is an award-winning learning, consulting and communications company that plans and innovates with clients to address their biggest performance and engagement challenges.